I was lucky enough to get hold of an invite for Google+ earlier today thanks to one of the guys at work and some creative invitation methods.  I'll cover my impressions of the new social media platform in another post but I wanted to cover an initial stumbling block separately first.  Naturally, after playing about with all the features and inviting half the office, we all decided to take a look at the mobile version of Google+.
There's a fair mix of handsets in the office, covering iPhone, Android, Blackberry and my own, Windows Phone 7.  Google have already launched a native Android application for +, as expected, while other platforms have to settle for accessing the platform via the mobile web app, available at google.com/+.  While others were able to access the web application without any problems, I ran in to a bit of an issue with WP7.
Attempting to browse to the web app's URL on WP7's version of Internet Explorer results in the following page: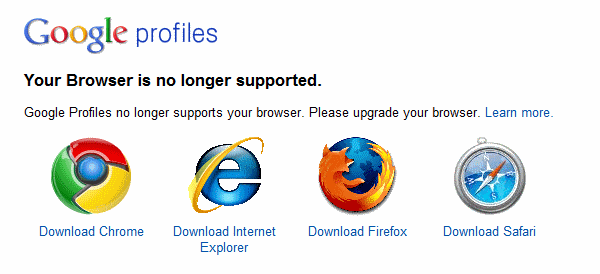 Initially, receiving this error wasn't the hugest surprise.  WP7 includes it's own version of Internet Explorer that sits somewhere between IE7 and IE8.  This can result in some funny experiences, but generally works extremely well.  There's also an option to switch between Desktop and Mobile versions of webpages within the browser settings, so I changed this to Mobile, thinking it may have been related.  Unfortunately, this had no effect.
So, it seems like Google has either forgotten to support WP7's unique version of IE, or simply chosen to ignore the fledgling platform in favour of more established OS's.  Looking at the supported OS list on the Google+ mobile page, it says that they cover iOS 3+/iPad, Android 1.5+, Blackberry 6.0+, Nokia/Symbian and Windows Mobile.  So it seems like Google has provided support for the previous iteration of Microsoft's mobile OS, the last major version of which, Windows Mobile 6.5, was released in late 2009.
This seems to be rather a strange decision from Google, if it is indeed a conscious choice and not simply a bug.  So, if you're a WP7 user and mobile is a large part of your social networking behaviour, you may want to stick with the integrated Facebook support within the WP7 OS.  For now at least.