GAME Group look to be in some trouble today after the news broke that they would not be stocking any EA published titles after Friday's release of SSX.  The game retailer had some trouble with Metal Gear Solid at the start of February and had to stop taking pre-orders.  Things seem to have gone from bad to worse now and it looks like the group (including Gameplay and Gamestation) may be struggling to stock any major new releases in future.

Earlier today, an internal memo, circulated around GAME stores and later leaked onto the Internet read:
We gave the industry commitments - we committed to integrity and openness in our dealings, and working with everyone equally. We committed to only stocking products on which we could get the right credit terms, regardless of the title or supplier. We will not stock products if the terms are not right for our business - we will not sacrifice long-term credit requirements for short-term sales opportunities.

As a result of us taking this position - a position that we believe is critical to our long term health as a business - we have taken the very difficult decision not to stock EA's March releases, including Mass Effect 3.
After news of the leak came out, the company soon followed up with an official statement, specifically aimed at those customers who had pre-ordered next week's massive release, Mass Effect 3:
We currently have a supply issue with regards to Mass Effect 3, which means that GAME and gamestation will not be able to fulfil orders for Mass Effect 3 at this time. We want to give customers as much notice about this as possible and provide them with a range of options ahead of launch.  We appreciate that this is disappointing for our customers, and we apologise sincerely for the inconvenience that this will cause. We value the loyalty of our customers very highly and as a gesture of goodwill we are providing the following:

Customers who have pre-ordered in store, will have the opportunity to add £5 worth of Reward points to their card if they visit us from today through to 16 March 2012.
Customers who have placed a deposit for the title will receive a refund as well as the £5 worth of Reward points between 1 and 16 March 2012.
Customers who have pre-ordered online, will be provided with an online voucher to the value of £5 to be spent on any purchase on our sites.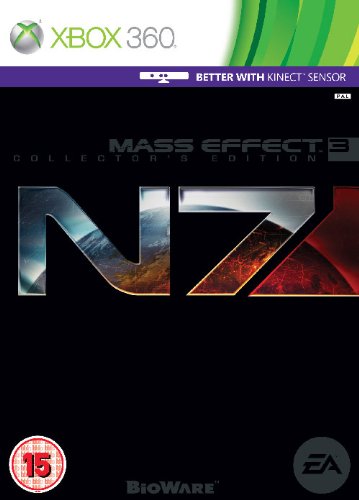 Unfortunately for a large number of people (myself included), GAME was also the sole UK source of the Mass Effect 3 N7 Collector's edition, the definitive version of the sci-fi trilogy's epic conclusion.  After a few moments of blind panic, EA were quick off the mark to announce that the previously GAME-exclusive N7 edition would now be made available at other retailers in the UK:
I managed to get an Xbox 360 copy at Amazon earlier today but at the time of writing, all of the retailers above seem to either be sold out or have only the PS3 version left.
With a little over a week to go until the launch of Mass Effect 3, fans are reaching fever pitch and the recently launched demo has managed only to whet the appetite further.  It's disappointing that the build up to the year's biggest release so far and one which has been hugely anticipated is likely to be marred by the issues surrounding the distribution of the title.
However, it would take a brave individual to bet against Bioware's latest epic being anything but a smash-hit success and an early contender for 2012's game of the year.