Some pretty interesting information leaked out of last week's SharePoint Conference 2012 regarding Microsoft's upcoming Mobile BI (Business Intelligence) solution. There's been surprisingly little reaction to the unveiling of the solution, apparently codenamed "Project Helix", perhaps due to the fact that it was unveiled at a SharePoint event and not a SQL Server one. However, courtesy of one attendee tweeting some screenshots to SSAS guru Chris Webb, this little nugget of information landed in my inbox this morning and immediately piqued my interest. Unfortunately there's very little information available on "Project Helix" at the moment, but from the 2 screenshots provided by attendee Just Blindbaek, there are a few things that are immediately apparent, and a couple more that can be reasonably inferred:
Modern "Metro" UI
It should come as no great shock to anyone that Microsoft's Mobile BI platform fits right in to the "Modern UI" theme. They've put a great deal of effort into aligning all their software platforms to ensure that the user experience is consistent, no matter what device is being used. The screenshots here appear to be running under Windows 8, having been accessed via a link from the built-in Mail app. Given that PowerView looks right at home in the Modern UI, it's not surprising to see Helix do the same.
Which leads me nicely on to…
Haven't I seen this somewhere before?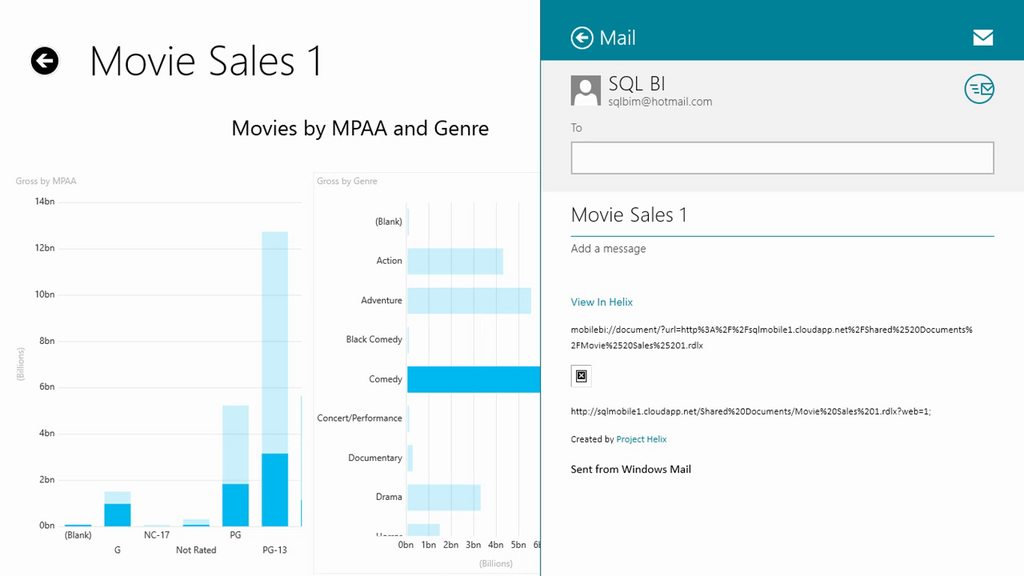 Are you perhaps thinking "hang on, that just looks like PowerView"?  With SQL Server 2012, one of the really special features from a user point of view was the SharePoint 2010 integration allowing users to construct their own data models and knock together quick prototypes and visualisations using PowerView. For anyone who's trying out Office 2013 at the moment, you'll be aware that it includes a newer version of PowerView which allows further functionality beyond the initial SP 2010 version. The new PowerView adds features such as a Map component, background and embedded images, multiple data models, URLs and more.  From the increased functionality, we can see that Microsoft obviously deems the initial version of PowerView to have been a success, and is looking to expand the functionality with future versions.
So, it makes sense that Microsoft's Mobile BI solution follows the same path and uses the existing .RDLX files. The big question is, will Project Helix give the end-user the same control as the SharePoint integrated version of PowerView does, allowing them to build and customise their own views in seconds on any supported device?
What's next?
It's hard to say where this is going to go based on a couple of screenshots. Clearly, MS is following a common technology roadmap here. The fact that PowerView is, underneath, based on SSRS speaks volumes to me personally, and I think we're likely to see a lot more "bleed" from SSRS into PowerView in future versions. I'm actually drafting an opinion piece on where I thinking MS is heading with PowerView and SSRS, so keep your eyes peeled for that one and join the discussion when I post it. While waiting for that though, why not check out Links' post on where he sees Microsoft's SSRS Mobile roadmap going.
On the surface of things, Project Helix seems to be going down the same route and taking the technology to mobile users, something that's been sorely missing from Microsoft's BI platform until now.
I suggest keeping an eye on the term "Project Helix" over the next couple of months, as there's sure to be more information forthcoming. In the meantime, please share your thoughts on Project Helix below. What features do you see it having? Does Microsoft have the right approach? Where do you think MS are going to take this?